Spring 2017
Low & Slow
with Henk van Assen
A publication using text of our choice for Henk van Assen's Type 02 course.
Publication Details

6" x 8.5"

126 pgs.
Printed on pink paper. Bronze reflective cover. Spiral coil binding.
Lowriders originated in Los Angeles, CA as a subculture—becoming a symbol of community pride. Influenced by classic hot rods and lowriders, Low & Slow uses excerpts of Henry David Thoreau's Self-Reliance to juxtapose the romantics of living off the grid and living autonomously with the subculture's philosophy of doing things a little differently.
Spring 2017
A White Ford Bronco
with Julian Brittner
A publication using text of our choice for Julian Brittner's Typography course.
Publication Details

5.5" x 7"

85 pgs.
Printed on Munkin. Saddle-stitched binding.
OJ Simpson's trial was one of Los Angeles' highly televised moments in history. Simpson's acquittal representeda form of success for the African-American communities as they unjustly faced police brutality, racism, and discrimination. This publication uses a transcription from media news coverage as well as the transcription of the conversation shared between police and Simpson during his flee.
Summer 2018
On View: Glenarm Power Plant
with Brad Bartlett
A publication designed for Brad Bartlett's Advanced Transmedia Studio.
Publication Details

10.5" x 11.5"
130 pgs.
Printed on Mohawk Eggshell, 90lb. Offset by Nonstop Printing in Hollywood, CA. Hard cover bound by KaterKraft.
I was curious of a site that sat adjacent to ArtCenter College of Design's 1111 building. I approached the compounds looking through the viewfinder of my Pentax Honeywell Spotmatic. Immediately, I had some inquiries. Is the architecture of the compounds intentionally boring? Does it suggest the division between private versus public space? I hopped on my computer and perused Google Maps; here, I was able to view the site from a completely different perspective.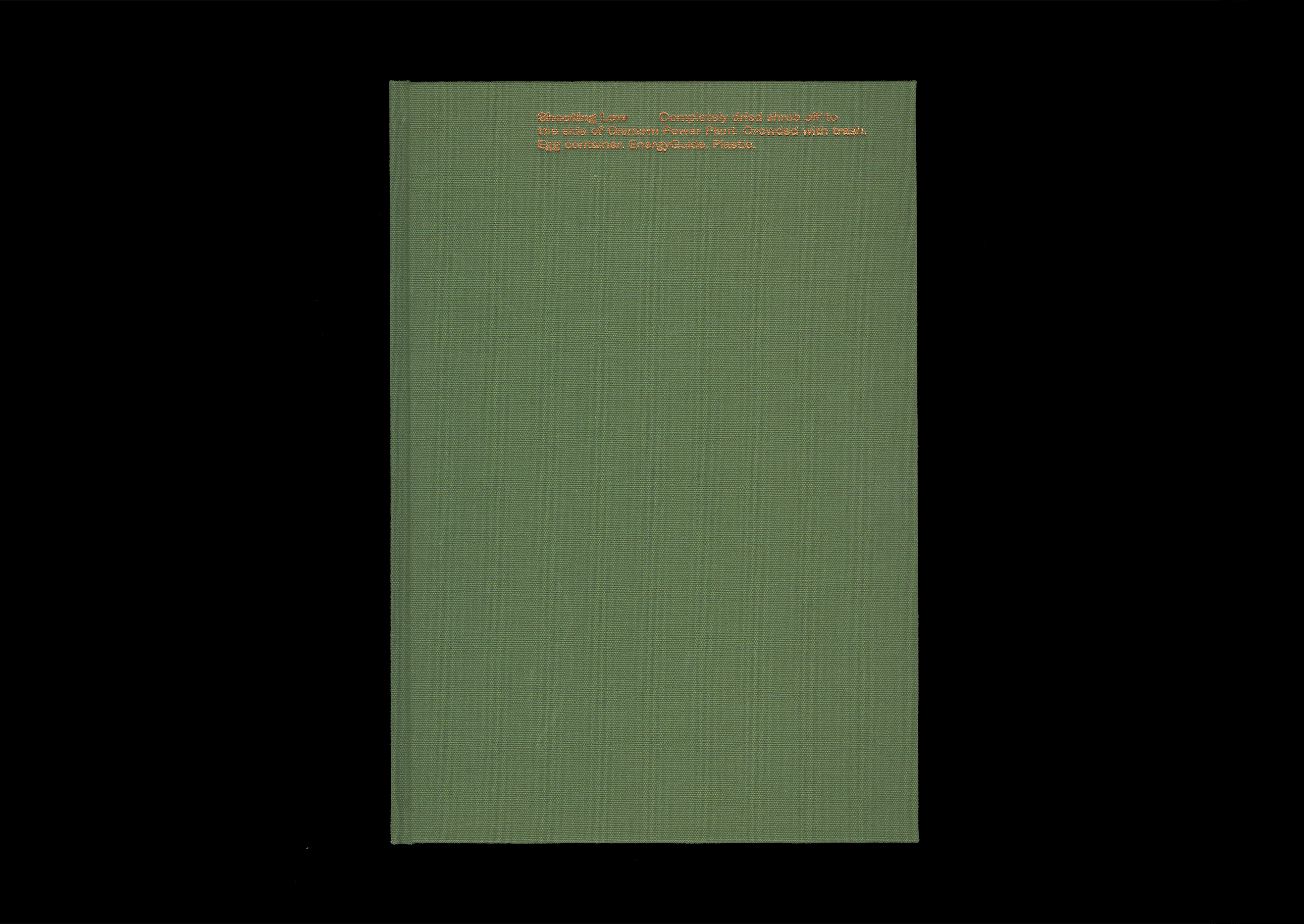 Spring 2018
Buried Here:
A Compendium of Us
with Stephen Serrato
A publication designed for Stephen Serrato's Graduate Typography 02.
Publication Details

11" x 16.5"

350 pgs.
Printed on mixed media. Spiral coil binding.
Buried Here is a catalogue designed for a fictional exhibition, including 8 artists and a curation of their work. The premise of the exhibition is a speculative concept, inquiring if a supernatural life form was to visit Earth and encounter the remnants of the human race— what would they find? How would mankind document their existence? This catalogue includes a historical timeline as well as a reprint of Henry Bergson's Matter and Memory.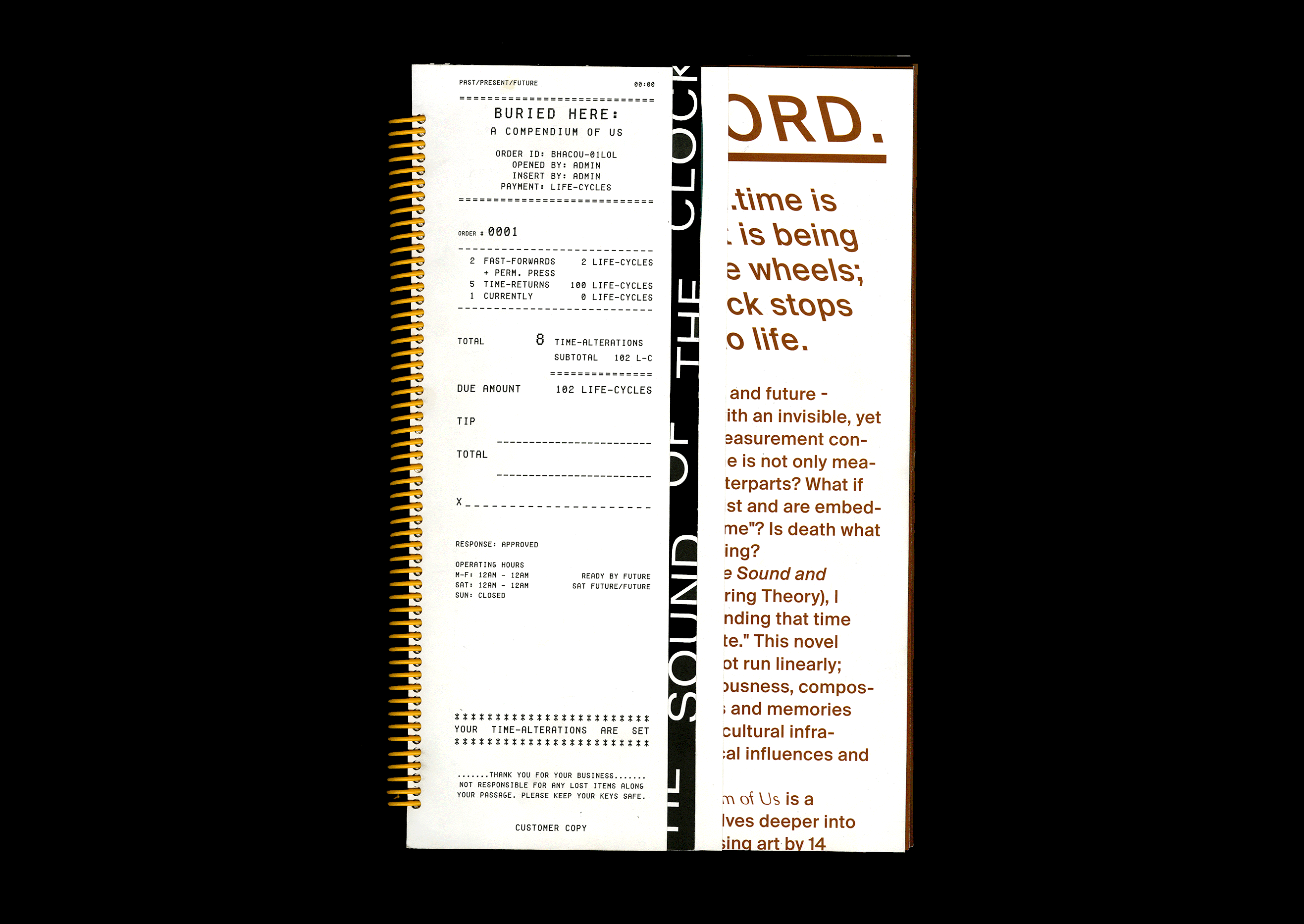 Spring 2018
Very Crispy
with Carolina Trigo
A publication and fictious exhibition designed for Carolina Trigo's Graduate Studio 02.
Publication Details

8.25" x 10.5"

350 pgs.
Printed on mixed media. Spiral coil binding.
Los Angeles' Chinatown is known for its movie set-like environment which references a time and place reminiscent of 1920s Shanghai. As tourists make their way through the Chinatown, souvenir shops butt against each other, displaying "exotic" goods from the motherland. Very Crispy uses satire and humor as devices to critique its facade. Are the tourists gazing at Chinatown? Or are the people of Chinatown gazing at its visitors?